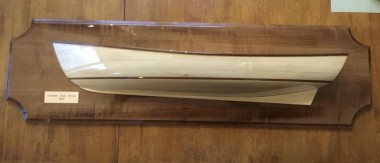 Castine Class Sloop
Location
Highlands Woodturning, 862 Castine Road.
For four Tuesday mornings, starting March 19th, you will enjoy instruction as you create a fine example of half hull modeling. Select either the Schooner Bowdoin, or the Castine Class Sloop as your model. Instruction is by David Wyman and Don Small. You will also learn how to properly sharpen a chisel. Feel free to bring your own chisel and have it expertly sharpened - by you!
Cost is $75.00 for the sessions, including all materials and expert instruction.
Dates: March 19, 26, April 2, 9.
Contact Information
To sign up, contact Bill Corbett at 326-4930, bcorbett.spray@gmail.com