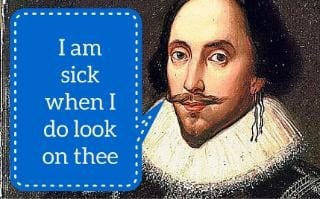 Location
Witherle Memorial Library - Castine
"Thou art a boil, a plague sore, an embossed carbuncle in my corrupted
blood." Ah, Shakespeare. If you thought the Elizabethan bard was all love
scenes and sword battles, come to the Witherle Memorial Library at 6:30 PM
on April 24th and perform, and/or view, some of Shakespeare's more bawdy
scenes. By the end of the night, you'll be able to say, "I'll beat thee, but
I should infect my hands," with confidence. Following this, we will act out
scenes from various plays that have an April Fool's theme. Free
admission...but don't forget to bring along a bit of dessert to share, "you
base, proud, shallow, beggarly, three-suited, hundred-pound, filthy
worsted-stocking knave!" Ahem. Sorry. This program is sponsored by the
Castine Arts Association and the Witherle Memorial Library and created by
moderator Johanna Sweet.
Contact Information
For more information call 326-4375 or email us at
refdesk@witherle.lib.me.us.