The Visual Arts Committe is expanding it's reach to include programs that explore art with a new approach. From basket making to fly fishing, locker hooking, art workshops, Independent Art group painting, and our series programs, The Art of Cooking and The Art of Wood, we are offering a broad selection of fun events and workshops. Come join us and learn!
Upcoming Events & Workshops
Every other Tuesday starting Oct 29. 5:00 potluck, 6:00 movie
Enjoy a wonderful potluck supper followed by a movie
more . . .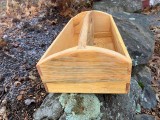 Four Thursdays, Jan 23, 30 and Feb 6, 13. 6-8pm
Create a functional tool caddy with dovetail detail.
more . . .
Suspended
Announcement
more . . .