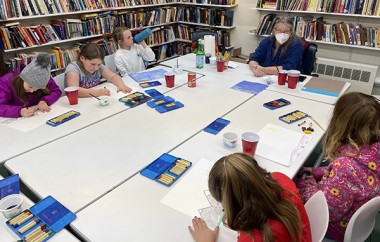 Location
Witherle Memorial Library, Castine 
Art in the Afternoon for ages 8 to 11.
January 13, 20 and 27 from 2:30 to 3:30.
Students will work with a variety of media - drawing, painting and creating small books. Each week will bring a new creative activity!
Instructor Kristy Cunnane has been a full time teacher and professional artist for many years. She works in a variety of media and enjoys sharing art experiences with children and adults alike. For many years she has been part of a collective of artists who create artist books. She runs a monthly art subscription, sending affordable art- prints, small books and zines through the mail. She lives in Orland in the beautiful woods of Happytown Road.
Click HERE to register.
Co-sponsored by the Castine Arts Association and Witherle Memorial Library.
Contact Information
Witherle Memorial Library - 326-4375