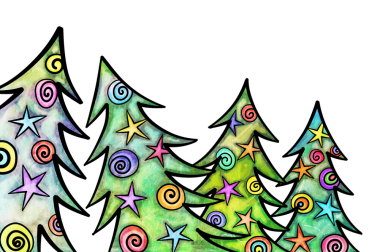 Location
Witherle Woods Preserve, Castine
Take a stroll along the Holiday Tree Trail this season.  In cooperation with the Maine Coast Heritage Trust, the Castine Arts Association is sponsoring a tree decorating project that invites individuals and families to choose a tree along a designated trail in Witherle Woods and adorn that tree with nature-frlendly decorations.
What better way to enjoy the beauty of the woods as well as share in the creation of this first-ever holiday trail that might well become a new tradition!
Decorators are invited to begin this project the Friday after Thanksgiving (Nov. 27).  Decorating may take place anytime during the season with a decoration removal date occurring during the first week in January
The trail we are designating as the Holiday Tree Trail begins at the top of the hill from the Battle Avenue entrance to Witherle Woods Preserve, and extends to the east. The eastern end of the trail may be accessed from Wadsworth Cove Road. Trail signs with a map will guide you. Please see the downloadable map below.
Guidelines:
Do Use:
Ribbons, fabric, wood or plastic ornaments that are large enough to avoid an animal swallowing them. Also Popcorn, cranberries, dried fruit and corn are acceptable. Natural items like pine cones, lichen and moss, winterberries and sea shells are okay. This is not a complete list, but it gives you and idea about what is acceptable.
Don't Use:
Breakable glass ornaments, tinsel in any form (strands or garland), plastic garlands capable of shredding, artificial snow spray or flakes, glitter, small objects that could be swallowed by a creature, and anything that may be combustible like candles or battery powered lights. The Holiday Tree Trail is for daytime enjoyment, so lights of any kind are not appropriate.
Also please help by doing the following:
Wear a face covering and observe social distancing; begin decorating any time from Friday the 27th on; remove your decorations in the first week of January; sing carols while working, and Have Fun!
Contact Information
info@castinearts.org; phone Johanna Sweet at 326-4924
Downloadable Documents (PDFs)
Holiday Tree Trail Map