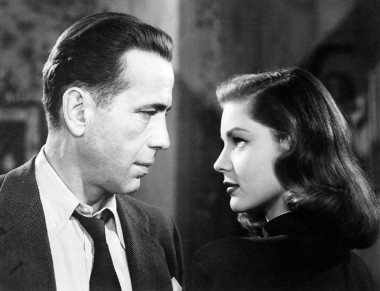 Bogart and Bacall
Location
Emerson Hall, Court St.
Our third season of potluck suppers and a movie begins on November 27th. Last year's series was another successful season with 17 excellent films introduced by Castine residents who selected a favorite film for the series. Some interesting background is given, scenes to watch for, who turned down the role, where the story originated, amusing stories from behind the scenes, etc., all of which make the viewing more interesting.
If you are willing to host a film, please contact Debby Neve (326-7100) to fill in the schedule. Try to pick movies that, perhaps, everyone has not seen before or even knows about. An exellent on-line resource for movies is imdb.com.
Dates planned for the series are: Nov. 27, Dec. 11, Jan. 8, Jan. 22, Feb. 5, Feb 19, Mar. 5, Mar. 19, Apr. 2, Apr. 16, Apr. 30, May 14, May 28. So these are every other Tuesday. Watch for announcements in emails and in the Patriot.
Potluck starts at 5:30 followed by the film at 6:30 (you can opt to just come for the film)
2018/2019 Season: Date, Movie Title, and Host
November 27: The Emmigrants, hosted by Don Tenney
December 11: 34 Charing Cross Road, hosted by Margery Read
January 8: On the Waterfront, hosted by Johanna Sweet
January 22:
February 5:
February 19:
March 5: The New Land, hosted by Don Tenney
March 19
April 2:
April 16:
April 30:
May 14:
May 28:
FYI, last season's selections:
Citizen Kane - Peter Davis
Ratatouille - Harry Kaiserian
My Cousin Vinny - Margery Read
Dr. Strangelove - Tony Politano
Enchanted April - Johanna Sweet
Oh Brother Where Art Thou - Sam Friedlander
Moulin Rouge - Don Tenney
Captains Courageous - Bob Friedlander
Waking Ned Devine - Margery Read
The Intouchables - Debby Neve
Oh God! - Tim Hall
Fantasia - Sam Friedlander
What's Up Doc - Paul Gray
Bread and Tulips - Berna Kaiserian
The Color Purple - Bob Friedlander
The Train - Don Tenney
Maudie - Johanna Sweet
Contact Information
Debby Neve 326-7100. djneve@gmail.com