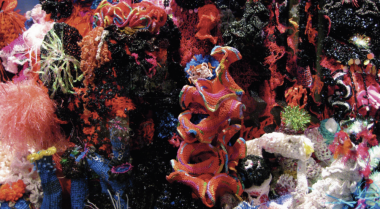 Location
via ZOOM. Preregister to receive the link.
Castine Arts Association and Downeast Fiber Arts present:
Art Meets Science: Knitted Coral Reef Workshop via Zoom, and led by Jill Schoof
A group of Castine fiber artists have been exploring math-knitting, and we have been making crocheted and knitted coral reefs, otherwise known mathematically as hyperbolic surfaces. They are fun and easy to make - and intriguing to look at and to handle. The knitted coral reefs combine mathematics, marine biology, art, and craft to produce large-scale coral-like seascapes. They bring attention to the dual calamities facing marine life: climate change and ocean pollution. Living reefs everywhere are under stress; colors are bleaching and corals are dying, even here in Maine. In this two-week workshop in January, you will learn to knit a hyperbolic surface/coral reef, and will learn a bit of the math and science while you work. Together, we can knit a hyperbolic coral reef here in Castine.
Take a look at https://crochetcoralreef.org/about/gallery/ for a look at some great photos of an exhibit -- there have been exhibits throughout the world, in major art galleries. If you can cast-on and knit, I am sure you would enjoy making one of these beautiful and amazing surfaces.
Materials you will need include worsted yarn (Noro is very nice for this project) and a large circular needle (32 inch or larger).
Preregister by sending an email to: downeastfiberarts@gmail.com
Contact Information
Preregister with Jill Schoof: downeastfiberarts@gmail.com